Articles(7)
Help category: Profile Access
Finding and accessing Profiles
o If you've been sent a link like the below, please see help guide – How to access a 'Shareable Code'
Log in to Strengths Profile
Click Your Name (Top right-hand corner)
Select Dashboard
(Ensure your dashboard view is set to personal and not practitioner)
Head further down the screen to your profile timeline, this is where you will find the assessment that you have started,
Click Continue Assessment to complete this
Results are then viewable through your dashboard, How do I view an assessment results
All Profiles are currently available in UK English, US English, and Spanish.
We hope to add more languages in the near future.
Upon completing your profile you will be redirected to the dashboard, of which you will see you are able to download your latest profile including extra resources if they have been granted (If Invited). On the left side of the main card you can download the profile including Your Potential and Careers Guide. On the right hand side you can download a lower tier seperately, so if you have an Expert profile you can download Introductory.
Alternatively you could scroll down to the Profile Timeline where you will see every profile you have ever taken, here the cards go from Left to Right in Chronological order. Clicking on your first card will display your latest profile results.
Steps
Log into your account (if not already logged in)
Click your name in the top right hand corner
Click on "Dashboard"
Once in the Dashboard the main card Outlines your Top Strength
Under the top strength you can download the latest including extra pages (If allowed via invitor)
Alternatively on the right side of the card you can download each item seperately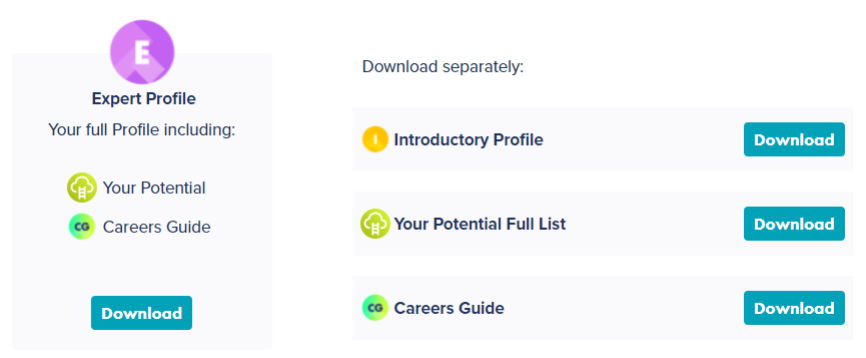 After the process of purchasing a profile is completed, there will be a button that will display on the page which will indicate go to dashboard. Depending upon whether you are a Practitioner or an Individual will depend on which dashboard you use.
For Personal Dashboard you will see a button which will allow you to start the assessment.
For Practitioner Dashboard you will see in My Product Balance above the purchased profile name is the number of profiles you currently have in your balance.
Steps
·
Log Into Your Account (
if not already logged in
)
·
Click
your name
in the top right hand corner
·
Once in the Dashboard scroll down to
Profile

Timeline
·
In the Profile Timeline you will see "
Take A New Profile
"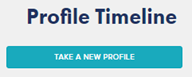 You must have the Profiles within your own dashboard first, i.e. you sent the invites.
Viewing someone else's assessment.
Once you've intvited a user to take an assesment, you can download their completed report.
If you login to your strengths profile account
Click Your Name (Top-right corner)
Then Select Dashboard
Then click on the (top-left corner)
Select Invites & Transfers
In the invites list you will see a column labeled Status.
The status column will determine if the user has;

accepted the invitation
started but not finished (Pending) the invitation
completed their profile.

To view the completed report click View
You can also view the Group the individual is in and view the Profile in the same as the above or use the Multi Profile Options to download them all in your group