Articles(7)
Help category: Free Starter Profile
How to access the FSP for yourself and send to others
There are 2 ways to send out a Free Profile invite, access the results and upgrade should you choose to later on.
1. Use the Invites & Transfers menu on the and click on 'Send an invitation' (for individual people, not for sending to multiple people)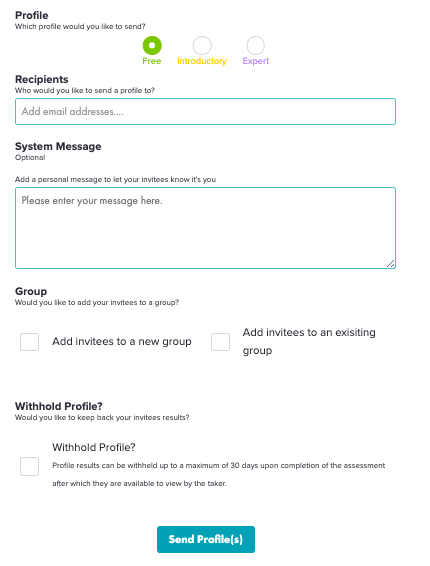 Select the Free Profile using the buttons at the top.
You can then enter an email(s), add to a group and choose to withhold the resutls for up to 30 days. Please note the Free Starter Profile does not include the Career Guide.
The user will receive an email from Strengths Profile. Once they have completed the Profile, you will see the results in your Invitations and can download or upgrade to an Introductory and Expert.

2. You can also use a shareable code to send out mulitple links to the Free Starter Profile via your personal email (recommended for multiple people)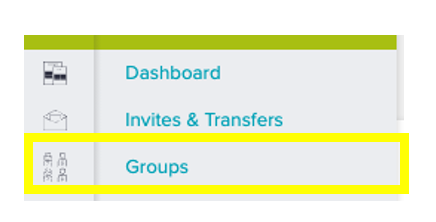 Click on Create Group, add the details and click Next
You will then see the shareable code in the Groups dashboard, ready for you to click on and copy to clipboard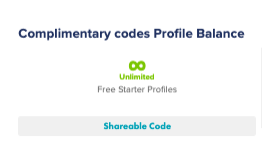 Once the Profiles are completed (see Emily here) you can choose to view or upgrade individual or all Free Starter Profiles using the Multi Profile Options

The Free Starter Profile is suitable for personal use, for coaching clients, in organisations and for educators. If you have taken a Free Starter Profile yourself or invited someone else to take it, there are a number of options available to you.
For yourself:
If you would like to take a Free Starter Profile yourself, you can click on the Free Starter Profile button at the top of the screen and register/login to complete your assessment.

Once you have completed your Free Starter Profile, you can log in to your account and download your report by accessing your Dashboard.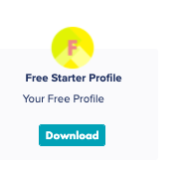 You are able to complete 5 Free Starter Profiles for your account.
If you would like to upgrade your Free Starter Profile to an Introductory or Expert Profile, you can do so from your Dashboard. Click on the Upgrade button next to the Profile type you wish to upgrade to and you will be able to purchase this upgrade via the store.

For someone else:
You can send multiple people a Free Starter Profile from your dashboard by creating a Group and clicking on the Shareable code with this group and pasting it into an email.
If you have sent out a Free Starter Profile to someone and wish to upgrade them to an Introductory or Expert Profile, you can log in to your Dashboard and locate the Free Starter Profile(s) via Invites & Transfers or Groups and selecting them and using the Upgrade functionality.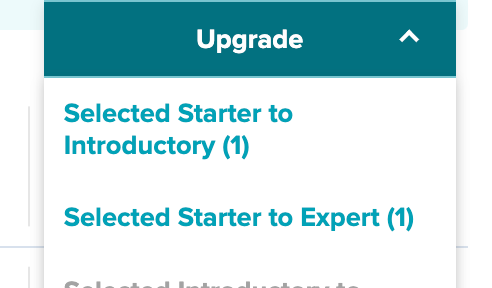 If you would like to upgrade all Free Starter Profiles, you can use the Upgrade functionality.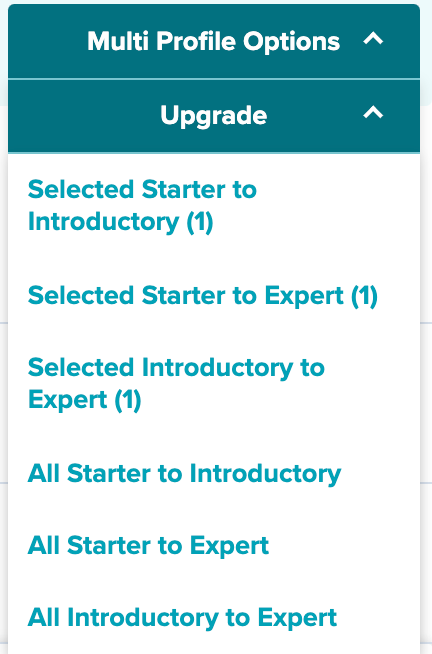 You can view detailed help guidelines that cover all sections here.
Visit www.strengthsprofile.com and click on the button 'FREE STARTER PROFILE',

Register for a new account or login to an existing account, and start your assessment.

Your results will be available immediately to download in your dashboard

You can choose to upgrade your Profile at a later date

You can upgrade individuals within your personal invites. You can also upgrade individuals and everyone within a Group you own.
Please note, you must have the Profiles available within the Group (for Groups) or your Profile Dashboard (for Invites) before upgrading.
IF THE GROUP MEMBER(S) YOU WISH TO UPGRADE ARE ALREADY IN ONE OF YOUR GROUPS:
Select the group and select the name(s) of the people you wish to upgrade.
Using the 'Multi Profile Options' click on 'Selected' for individual upgrades or 'All' within the relevant Profiles categories. Confirm the action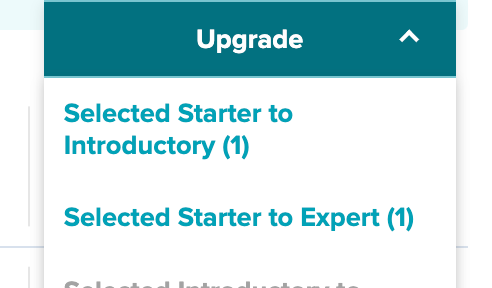 IF THE GROUP MEMBER(S) YOU WISH TO UPGRADE ARE ALREADY IN YOUR PERSONAL INVITES
Go to the 'Invites & Transfers' menu on the left hand side of the dashboard
Select the name(s) of the people you wish to upgrade
Using the 'Multi Profile Options', select the Profile type you wish to upgrade too (see above image) and confirm the action
IF THE GROUP MEMBER(S) YOU WISH TO UPGRADE ARE WITHIN SOMEONE ELSE'S DASHBOARD
Click on Add Members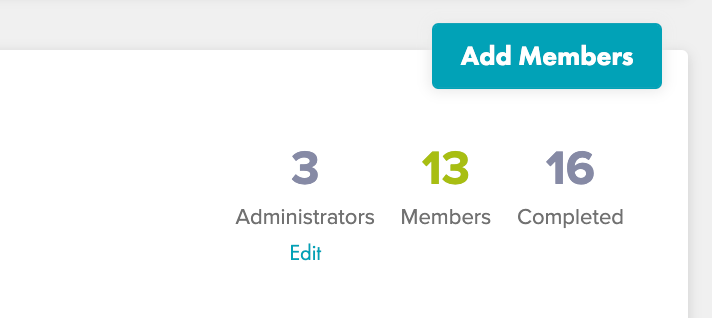 Click on Add New Members (left hand section)

Enter the person(s) names and click on Add


Select 'None' in the Profile options. This will ask permission to access the users latest Profile without you sending one of your Profiles




The user will be asked to grant you permission and once this is done, you will see their Profile in your dashboard
Login and go to your dashboard
Choose a Profile you wish to upgrade from, Introductory or Expert
Click on the upgrade button next to this

You can choose to upgrade to the Introductory or Expert Profile.
This will take you to the store to purchase or if you have already purchased it, ask you to confirm you wish to redeem it
Yes, you can complete it up to 5 times within one account.
For personal use
If you're new to strengths, it's the ideal way to start your self-awareness journey to expand your confidence and give you the language to explore what you love to do. You can choose to upgrade at any time to an Introductory or Expert Profile, if at all. Use the dictionary in the Profile to identify more strengths and use our Best SELF resources to guide your actions. Sign up to our webinar.
If you already have a Strengths Profile, you can also retake your assessment and receive the Free Starter Profile to check in on whether your key results have changed and what that means for you.
For coaches
Use the Starter Profile to introduce more clients to the strengths approach and your own strengths offering. Consider running webinars or workshops on strengths for those just starting out. Add strengths to your existing workshops on leadership, careers or wellbeing. If you are a coach working with organisations, move past budget constraints and get everyone talking about their strengths to embed the culture. Please note Phase 2, launching in Autumn, will give you full access to others' Starter Profiles – for now it is individual access only.
For organisations
If you're new to strengths, then it's an ideal time to pilot the approach with your people. Help them use the language to improve the positive culture and appreciate what each other does best. Support employees to take ownership of their career and move more towards tasks they'll enjoy.
If you already use SP, then why not consider how you can now expand your approach to what you already do. Make it an inclusive offering to know your strengths in the organisation. Build inclusion around the strengths language and embed the culture where everyone is valued for what they love to do.
Your people can all sign up to our monthly webinars to support their strengths actions.
For educators
It's a fresh and light approach to strengths, so it's an ideal way to introduce your students and stakeholders to the benefits and application within careers. Try starting with a couple of pilot groups of students and those who would be embedding the learning. It's great to upskill tutors on strengths too so they can have more empowering conversations. Review our training and resource packages so you can help students get more meaning from their results. Connect their results with a confident narrative for job applications and interviews.
Once you get familiar with the approach, you may want to consider using the Introductory Profiles. They support deeper, reflective insights and more meaningful applications of strengths to support students with the right career opportunities. All new educators can sign up for a Strengthen Your Students package with 30 Introductory Profiles to try the upgraded Profiles here.
If you're already using SP as an educator, you can use this alongside your existing strengths offering. We want every student to know their strengths (as I am sure you do), so use it to make strengths an inclusive offering within your university to all students. Try running larger scale workshops or offer online materials to support their insights where they can apply it to job applications and boost their confidence in interviews. Get more staff involved in strengths conversations. Use our Best SELF resources or get students to sign up to our monthly webinars to help them learn more about taking action with their strengths.
Please note we are working on you being able to bulk upgrade students and send out the Free Starter Profile via a shareable code, which will be available in Autumn 2021.